About Us
We have been breeding and showing Cairn Terriers successfully for over 50 years. My family's first foray into the dog showing scene was with a dog bred by my aunt Pat Gryst. He became Ch Inveran Wallace. Once the show bug had bitten we then decided to start breeding and purchased a bitch from Dibs Russell and Bren Gurner who became Ch Kirriemuir Katriona. In her first litter she produced Ch Achnacone Kirsty a beautiful silver grey by Ch Bracken Ben Nevis.
Since then we have not looked back owning Ch Rufus of Rossarden (imp UK) brought to this country by Betty McLean and importing dogs of the calibre of Ch Wessex Wardance (imp NZ), Ch Biorsadh Penpal (imp UK), Ch Pinetop Dillon (imp UK), Ch Biorsadh Wizadora (imp UK), Trevlac Robyn's Charm (imp NZ), Ch Uniquecottage Red Sunset (imp UK) and in 2006 Birselaw Moment In Time (imp UK); as well as breeding our own home Champions which are too numerous to list.
In 1999 I decided to enter into the world of Alpacas. Purchasing my first female and wether from Raelene & Rob Strong of Mariah Hill. Cedar Creek Dreamweaver has been the "blue hen" of my breeding programme with all her progeny exhibiting superb type and great fleeces. I now own over 50 alpacas with the current stud males being Softfoot Merlin GM, Achnacone Hail To Reason, Jolimont Giovanni (co-owned with Annkea Alpacas) and Halcyon Ripperoo (co-owned with Westwind Alpacas).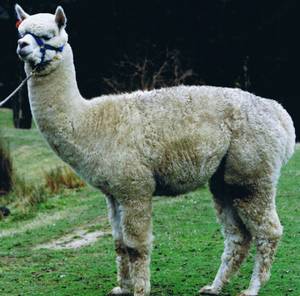 The stud is located in beautiful West Gippsland at Longwarry North just 20 mins from Pakenham.
All enquiries re Cairn Terriers and Alpacas are welcome. Please contact us on (03) 5627 6417 or (03) 5629 9311 or mobile 0419 590 230 or simply use the contact form on this web-site.