Achnacone Alpacas
At Achnacone Alpaca Stud ​our breeding objective is to maximise the density and length of fibres grown by the alpaca. If there are more fibres and longer fibres on the animal's body, the fleece weight will increase. And, as density increases, the fleece becomes sustainably finer in diametre.
Our Aims are to produce-:
Fine dense soft handling fleece with excellent character
Lustrous high amplitude crimp made up of long thin staples all over the body
Sound temperaments with strong framed alpacas
Introducing our Stud Males

Softfoot Merlin
Primary Follicle Micron: 47.4
Secondary Follicle Micron: 28.3
Secondary to Primary Ratio: 10.5
Halcyon Rippperoo
Full brother to Halcyon Humdinger, Halcyon Harem Scarum and Halcyon Hillbilly. This family line has provided progressive studs with the genetic tools to totally revolutionise the Australin alpaca with low primary micron, high density, fantastic temperament, soft luxurious handle and excellent conformation. Ripperoo has the ability to crunch primary micron down, the only genetic way of eliminating guard hair.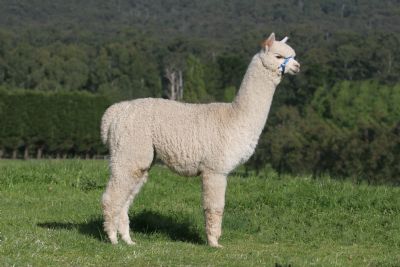 Primary Follicle Micron: 21.8
Secondary Follicle Micron: 15.0
Secondary to Primary Ratio: 8.1
Jolimont Giovanni
Co-owned with Ankkea Alpacas.
A proven Peruvian macho showing ultra high density, high growth rates with the an extremely soft handling luxurious fleece. Giovanni has excellent conformation and movement.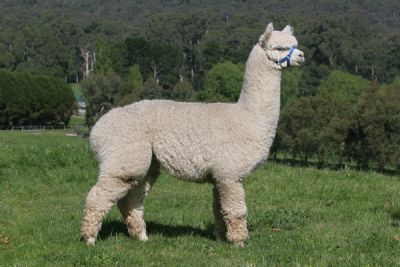 Primary Follicle Micron: 30.2
Secondary Follicle Micron: 19.5
Secondary to Primary Ratio: 12.0